VA Bingo  – Veterans at the nearby James A. Haley Veterans Hospital were very happy to see this group of ladies show up to spread some Halloween cheer with tasty goodies and $100 donation for canteen coupons as bingo prizes.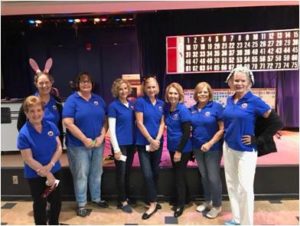 Angel Cocoons
There were many hours put in by many loving hands to create these beautiful Angel Cocoons.  We delivered  them  to Tampa General Hospital and Florida Hospital Wesley Chapel.   They will be used for final portraits as well as burial gowns for the littlest angels. We extend a huge thank you to the women who donated their beautiful wedding gowns to be used for this project.
Fall Festival – Our members' face-painting artistry was in great demand at the Hunters Green Fall Festival. Spiders, pumpkins, bats, ghosts, rainbows, lightning bolts, cupcakes and flowers were big hits!!!
Trinity Cafe – Our team provided service with a smile at Trinity Cafe's  Busch Blvd (TC2) location.  Thank you to Fern R. for organizing our monthly visits!